The Purpose, Goals, and Mission of the
Academic Achievement Programs
Purpose
The purpose of the Academic Achievement Programs has remained constant through the years – to facilitate access and provide the opportunity of a college education to students who, if evaluated on traditional criteria, might not have access to the University of Maryland.
Goals
The Academic Achievement Program goals are to provide leadership, development, monitoring and evaluation of all its activities and services sponsored by the individual programs within the department.
Mission
The mission of the Programs is to provide academic and counseling support to aid in the retention and graduation of students. Specifically, the mission is to provide services that enhance the academic potential and personal growth of each student served.
Objectives
Summer Transitional Program
The six-week Summer Transitional Program helps students prepare for college life and takes place the summer prior to the Fall semester they are admitted. Academic adjustment is aided by:
Skills enhancement in math, English, college study strategies, and tutoring.

Participation in a three-credit university core course.

Enrollment in a one-credit college orientation course.

Weekly individual and/or group counseling sessions.

Structured study hall four days per week.
Student Support Services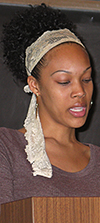 Students will enhance their academic prowess through participation in courses that focus upon English writing styles, mathematical computation skills and tutoring academic support services (i.e. course reinforcement and clarification strategies).
Students will demonstrate their ability to navigate through the college system (i.e. registration process, selection of major, four year planning, and calculating cumulative grade point average).
Students will demonstrate critical awareness of diverse cultural experiences through participation in cultural enrichment activities during their first and second years (e.g. theater performances, museum visits, etc.). Students will demonstrate an understanding of the financial aid process and procedure.
Students in their junior and senior years will demonstrate an understanding of the graduate school application process
Intensive Educational Development
The Intensive Educational Development program (IED) is designed to provide comprehensive and continuous support classes in mathematics, English, reading, college study skills, and tutoring services to undergraduate students. Three categories of tutoring are currently being offered to students: AAP Tutoring, Academic Success and Tutorial Services (ASTS) tutoring, and Net Tutor (AAP's online tutoring partner).
IED is funded to provide:
Support for students enrolled at UM

A potential avenue of admissions to UM from the Summer Transitional Program

A comprehensive tutoring program

Continuing development of English, math and college study skills

A framework to support your quest for academic success

McNair Post-Baccalaureate Achievement Program

The mission of the University of Maryland Ronald E. McNair Post-Baccalaureate Achievement Program is to increase the number of undergraduates enrolling in graduate school to pursue doctoral degrees.
The program offers services which include, but are not limited to:

Preparation for graduate school admissions tests.

Academic counseling, tutoring, and mentoring.

Summer research internships, which may include monetary stipends along with free room and board.

Faculty-guided research and mentoring.

Assistance with identification and acquisition of graduate school financing.

Advanced writing classes.

The opportunity to present original research at national forums and academic conferences.

Educational Opportunity Center

Participants will demonstrate an understanding of the value and impact of post-secondary education.

Participants will demonstrate an understanding of the financial aid application process.

Participants will demonstrate an understanding of the college application process.

Participants with limited English speaking abilities will demonstrate an understanding of ESL instruction and assistance to make Admissions and or Financial Aid application for PSE.

Community Resource Agents will demonstrate knowledge and understanding of the program admission process to assist applicants with the applying for participation in the program.

Educational Talent Search Programs North and Central

The mission of the UM-Talent Search program is to provide services that enhance the academic potential and personal growth of each student served. UM-Talent Search works with traditionally underrepresented middle and high school students who show promise, but may still need the supports we provide to successfully graduate from high school and navigate the unfamiliar territory of college acceptance and enrollment. In short, UM-Talent Search is committed to creating a space for our students to dream; And then equipping them and their families with the information, skills and resources necessary to make their dreams reality.
UM-Talent Search Education Specialists facilitate student access to knowledge and skills in the following areas: