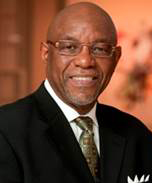 Dr. Jerry L. Lewis, Executive Director

Education
B.S. Radiologic Technology, Creighton University
M.A. General Administration, Resource Management, University of Maryland, University College
M.A. Public Administration and Public Law, University of Maryland
J.D. Howard University
Dr. Jerry L. Lewis is Executive Director of Academic Achievement Programs, (AAP) University of Maryland, College Park, MD. As Executive Director of AAP, he supervises two state programs, Summer Transitional Program (STP), Intensive Educational Development Program (IED) and five Federal TRIO programs, the Educational Talent Search Programs (ETS) North and Central, the Educational Opportunity Center (EOC), the Ronald E. McNair Scholars Program, and Student Support Services (SSS). Dr. Lewis directed the Upward Bound at UMD for 17 years and at Creighton University, Omaha, Nebraska for 2.5 years. He is the original author the UMD's Talent Search, McNair and EOC programs. He has more than 43 years of Higher Education administration experience and more than 40 years of TRIO program administration experience.
Dr. Lewis has played major roles in the development of TRIO presence in the National Policy arena; he is a Founders of MEAEOPP, his regional TRIO professional association, he is also a founder of National Coordinating Council, now, Council for Opportunity in Education (COE). He has testified before the House of Representatives and the US Senate Appropriation and Authorization Committees on several occasions on behalf of TRIO programs. He has served on the COE's Board of Directors in several capacities. Dr. Lewis is a Certified Grant Writer (writing more than $27 million dollars in grants at UMD during his tenure), Public Speaker, and National Consultant (teaching--federal program regulations and legislation, leadership development, program and staff development, documentation and recordkeeping, budgeting, program-to-campus interface assessments, organizational communication and strategic planning). Dr. Lewis teaches Grant writing for several regional, and non-profits organizations. He has also written numerous successful TRIO grants, generating over $10 million dollars as a consultant. Dr. Lewis has received numerous awards and recognitions for his leadership in Education and Community Service, including the Walter P. Mason national award for "his leadership to enhance education in America-COE", the Chancellor's Minority Achieving Award-UMD, Black Faculty and Staff Award of Excellence-UMD, Outstanding Associate Staff Member of the Year Award-UMD (1997), Creighton University's Legacy Award, Drum Major of Excellence Award-Black Ministry Program-UMD and he has been inducted into the Maryland Hall of Fame for his leadership in serving "Low Income and First Generation Students". Dr. Lewis is one of two Trio Professionals to have been granted Life Time Membership status to MEAEOPP. In 2017, Dr. Lewis received the President's Medal, the highest honor the University of Maryland community can bestow, for his career of commitment and service to the university community.
Dr. Lewis has also held gubernatorial appointed positions in his state, serving on the Maryland Lottery Commission for 17 years and as its Chairman for 7 years. He owns a Law Office and practices Civil Law in the state of Maryland and the District of Columbia.