Ronald E. McNair
Post-Baccalaureate
Achievement Program
Who Was Dr. Ronald E. McNair*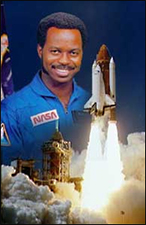 Dr. Ronald E. McNair, the second African-American to fly in space, was born on October 21, 1950 in a poor southern community in South Carolina. Despite his circumstances, Ronald McNair was determined to see his dream of being a scientist come true.
In 1967, he graduated valedictorian from Carver High School. In 1971, he graduated from North Carolina A&T State University with a Bachelor of Science Degree in physics and enrolled at Massachusetts Institute of Technology. Ronald McNair earned a Ph.D. in laser physics at 26 and eventually became a nationally recognized expert in the field.
In 1978, Dr. McNair was selected by NASA as one of thirty-five applicants from a pool of ten thousand for the space shuttle program. Dr. McNair was assigned as a mission specialist aboard the 1984 flight of the shuttle Challenger. On his first space shuttle mission aboard Challenger, he orbited the earth 122 times.
Among his many academic achievements, Dr. McNair was the recipient of three honorary doctorates and a number of fellowships and commendations. He was a sixth degree black belt in karate and an accomplished jazz saxophonist.
Dr. McNair was the mission specialist aboard the ill-fated Challenger flight in 1986. On the morning of January 28, 1986, Dr. McNair and six crew members died in an explosion aboard the space shuttle.
"Whether or not you reach your goals in life depends entirely on how well you prepare for them and how badly you want them. You're eagles! Stretch your wings and fly to the sky." - Dr. McNair
"Before you can make a dream come true, you must first have one." - Dr. McNair
*Courtesy, in part, of the Cal State Fullerton McNair Program web site.